The Harvard Club of Naples
Invites you to
A Comedy of Tenors

Live on Stage
At the Florida Repertory Theater

Friday, March 1, 2024
2:00 PM



Enjoy a live performance of the award-winning play
at one of the best theater companies in Southwest Florida.
Written by one of America's most prolific playwrights, A Comedy of Tenors is an uproarious tale of romantic indiscretions and madcap situations. On the eve of the concert of the century, 1930's Paris is all abuzz as four renowned tenors are set to take the stage in a stadium filled with screaming fans. What could possibly go wrong? Apparently, a lot, when you have one hotel suite, four tenors, two wives, and three girlfriends. Can producer Henry Saunders keep Italian superstar Tito Merelli and his hot-blooded wife from causing operatic chaos?
Celebrating 26 years of award-winning theatre, Florida Repertory Theatre is a fully professional theatre company that The Wall Street Journal called "One of America's Top Repertory Companies!"
It is consistently rated one of the best theater companies
in Southwest Florida.
We have a block of great seats for a Saturday afternoon matinee performance.
The show will take place in the beautiful and historic Arcade Theater on the waterfront in downtown Fort Myers.
There are numerous restaurants and bars in the area for dining or entertaining before or after the show.


Location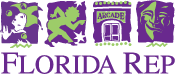 Florida Repertory Theater
2268 Bay St., Fort Myers, FL 33901
Transportation to and from Fort Myers is your responsibility.
There is plenty of street and covered parking nearby, including a lot across the street.
Join us for the show! You don't want to miss it.
Questions?
Please contact the Club Administrator, Tricia Wansor at hcn239@gmail.com or 954-914-3148