The Harvard Club of Naples
Invites you to
See On Golden Pond
Live on Stage
At the Florida Repertory Theater

Enjoy a live performance of the award-winning play
at one of the best theater companies in Southwest Florida.
On Golden Pond explores the often turbulent relationship of a young woman and her father,
and the difficulties faced by a couple in the twilight years of a long marriage.
It focuses on aging couple Norman and Ethel Thayer, who spend each summer at their home in Maine called Golden Pond,
and are visited by their estranged daughter Chelsea, her fiancé and his son.
The New York Daily News called it "A work of rare simplicity and beauty."
On Golden Pond debuted on Broadway in 1979 and enjoyed a Broadway revival in 2005.
It has won multiple awards including a Drama Desk award for Outstanding New Play
and three Tony awards.
The Florida Repertory Theater production stars a professional cast with Broadway and television experience, including
Martin LaPlatney (Amadeus, Law and Order, The Good Wife) as Norman, Susan Greenhill as Ethel, and
Anne Bowles (Inherit the Wind, House of Cards) as Chelsea.
Celebrating 25 years of award-winning theatre, Florida Repertory Theatre is a fully professional theatre company that The Wall Street Journal called "One of America's Top Repertory Companies!" It is consistently rated one of the best theater companies
in Southwest Florida.
We have a block of great seats for a Saturday afternoon matinee performance.
The show will take place in the beautiful and historic Arcade Theater on the waterfront in downtown Fort Myers.
There are numerous restaurants and bars in the area for dining or entertaining before or after the show.
Learn more about the Theater and the show here
Saturday, March 4, 2023
2:00 PM
Tickets: $65.00 Per Person
BUY TICKETS HERE, WHILE THEY LAST


Location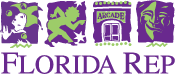 Florida Repertory Theater
2268 Bay St., Fort Myers, FL 33901
Transportation to and from Fort Myers is your responsibility.
There is plenty of street and covered parking nearby, including a lot across the street.
Join us for the show! You don't want to miss it.
Questions?
Please contact the Club Administrator, Tricia Wansor at hcn239@gmail.com or 954-914-3148